[Drafter's Note: The 7 Quick Takes idea stems from Jen over at conversiondiary.com. I was led to it by my awesome cousin Jenny at Life in the Cookie Jar. But when I went to join up, there was a different set of takes (duh--this caught my attention a few days ago), and when I went to link to Jenny, I realized I had shifted my idea a bit from hers. But the list is made and the images have been found. There's no going back now!]
I, like Jenny, have an exceptionally hard time picking JUST seven, and so, as you'll see, I cheat. But an important distinction (and cutter of some possibilities) was that these are not just favorite or beloved, but Had Some Impact on My Life. I also, just to be fair, had to remove all fairy tales and Greek mythology from the running--that's a different 7 Quick Takes altogether, and I'd still need four of them... But here, in rough order of personal discovery, are seven-ish children's books that had some kind of altering power to the woman you know as Chandra.
Go, Dog, Go!
The book that started it all. While I'm sure this wasn't actually The First Book I Ever Read, that's how I remember it. (I somehow thought, at the time, that it was the first chapter book I'd read. I seem to have been confused on what chapters were...) But this is the book I remember carrying triumphantly to Matt, to my grandmother, to anyone who would sit down for seven minutes: I could read this. Not from familiarity, but from actually putting together the sounds and making them mean something. The first power I ever knew, and it hasn't lost any magic in 25 years...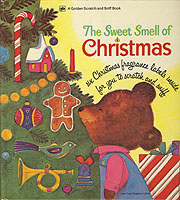 The Sweet Smell of Christmas
I like that Amazon calls this a "scented storybook." Nothing will bring me back to my childhood faster than the worn-out, scratched up pages of pine trees and oranges in stockings. It is not Christmas until I have paged through this old tome (yes, my original one, though I bought new copies for godchildren and cousins' kiddos this year). And aside from the olfactory enjoyment, it's a sweet story about the best part of Christmas, as a child: the anticipation. And I think, in its own weird way, it reminds me what it's still about: enjoying and embracing each simple little thing. And making gingerbread. Clearly.
In the Night Kitchen
Narrowly beating out its better-known brother, Where the Wild Things Are, Maurice's tale of Max's dream (?) steals the show for me--somewhat unsurprisingly. It would be hard to overestimate how much of my kitchen mysticism stems from my love of this book. So much collides in it: dreaming, flying, moonlight, and the magic and community of baking. I cannot love this story enough, and just got really annoyed to discover that I don't own it. Must make a trip to Longfellow Books post haste...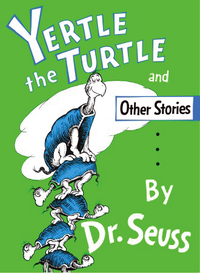 Yertle the Turle and Other Stories
This is almost more representative than particular. The distance by which Yertle beats out How the Grinch Stole Christmas, And to Think That I Saw It on Mulberry Street!, and Bartholomew and the Oobleck is infinitesimally small--my love for Theodore Geisel is deep, and I give him a large piece of credit for my love of playing with words. But my love for this one in particular comes down to a solid memory I have of snuggling in the children's area at the Eastham, Mass library. Most other kids on vacation at Cape Cod would have been dragging their parents toward beach-ward cars, but I was perfectly happy on a beanbag with Morris the cat (real) and Yertle (fictional).
Island of the Blue Dolphins / Julie of the Wolves
I was pretty sure I had a rich Alaskan heritage as a kid--I have a clear memory of arguing with kids in Mrs. Fuhrmann's fourth grade class that I was an Eskimo. But I quickly latched on to anything that secured this identity, and
Island
was at the top of the list. A few years later,
Julie of the Wolves
would try to take its place, but while I had no frame of reference for tundra, the sea was my second home. ("Weird," those in the know might be saying. "I thought this took place off the California coast, not Alaska." Fun fact: It does. And I didn't know it until just now when I went to pull the cover. Karana's interactions with Aleuts positioned the book firmly in the Aleutian Islands in my mind, and I never questioned it. Just for that,
Julie
gets a little also-ran tag here.) Regardless of geography, Karana was my hero for years. Ya know what? She still is.
Westmark Trilogy (Westmark, The Kestrel, The Beggar Queen)
While Lloyd gets a little more press (and terribly-adapted Disney screen time) from his Prydain series (which are also awesome), my heart belongs to Westmark. I don't remember how I stumbled on these--likely pilfering from Matt's bookshelves--but I felt like I had found something I wasn't old enough for, in a good way. A guy DIES in the first chapter, for crying out loud--and not the fairy tale, "her father passed away" poetry--it's intense. The whole series is big and epic and nerve-wracking in a way that I didn't know books could be. (Half a generation later, bajillions of kids my age would have similar feelings about Mr. Potter.) There is a grit and grime to it that was missing from the other YA reading I'd had, and I loved it. It was real, and hard, and I dare you to read it and not cry. Characters were broken, sometimes they let you down, sometimes they died. (This is about where Matt interjects the ridiculousness of reading Where the Red Fern Grows in school around the same time. "Not to be insensitive... But this is a coming-of-age story about a dog dying?!") It was life, in pages, and I loved it.
Say Hello to Zorro!
I suppose every adult comes to this shift: from the children's books they loved as a child to those they loved as an adult. This book (and, surprisingly, its sequel) is sweet and funny and worth buying your young child in its own right, but I will forever love it because the second time I flew out to the west coast to see my cousin and then-18-month-old goddaughter, this was The Book. The one that gets flipped over before you've flattened the last page, accompanied by the "AGAIN!" grunt. And while it's a great book, her parents were more than happy to hand Zorro-reading duty over to me for a couple days. At a rough count, I'd say I read it 20 times in 4 days, but maybe that's memory playing tricks. At any rate, I will love it forever for bringing my Ru-ster to my lap without fail all day every day.
Honorable Mentions:
Where the Sidewalk Ends, and everything else Shel Silverstein wrote. The man's a genius. Repeat Seuss-directed comments (ever-so-slightly quieter, which I don't think Shel would mind at all).
The Phantom Tollbooth. "It's bad enough wasting time without killing it."
The Black Book of Colors, which I found at a conference a few years ago. Gorgeous, ground-breaking, and well-deserving of the many accolades its received.
The Little House on the Prairie series. In terms of epic as a genre, it pales in comparison to Lloyd's stuff, but when looking at volume, Laura Ingalls Wilder prepared me for a lifetime of, "I'm about to start Book Six!" It's hard to imagine tackling (to say nothing of finishing, wolfing down) series by Stephen King, J. K. Rowling, and J. R. R. Tolkien without Laura warming me up.